Automated Product Data Management
InfiPlex offers enterprise level automated product data management with marketplaces like Amazon, Walmart, Jet and more. Manage your product data in one place and publish it to all your marketplaces. We can pull your products from an existing webstore, like Shopify, Magento, and BigCommerce, and then send your new products directly to your marketplaces. Contact us to set-up a call to automate your product data management.
Use your existing webstore as your data source, like Shopify, BigCommerce, and Magento
Automatically send unlimited new products to connected marketplaces


10,000, 50,000, or 100,000+

InfiPlex OMS can also be used to manage pricing on all your marketplaces
and a lot more...
Pricing Starts at $999.99 per month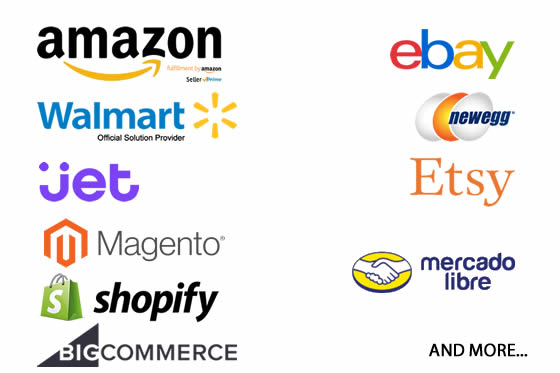 How It Works
Identify Your Data Source
InfiPlex works with you to pull your product data from your chosen data source. This makes it easy for you to use your existing primary store or Product Information Manager (PIM) as the source for the products you want to publish across multiple marketplaces.
Identify Your Product Categories
Different product categories on marketplaces like Amazon and Walmart have different data requirements. We work with you to identify those requirements and map your data accordingly. Our automated PIM SKU system also allows you to manually add and update data if needed, but the goal is to fully automate it from your main data source, saving you significant time. Time saved is money saved.
Define Products For Export To Each Marketplace
InfiPlex works with you to define the products you want to push to specific marketplaces. This is usually done by specific settings within your source data to make it easy for you to manage via your existing processes.
Set Pricing Rules
Our PIM Rules Engine allows us to define pricing rules to apply to your product data as it comes through, or just send the pricing as you have it set. You can tweak pricing for specific marketplaces or even specific categories of products. This also works great for pulling product data from manufacturer or distributor product data to set your selling price based on your cost.
Set Shipping Rules
Setting shipping rules makes it easy to adjust your shipping costs on individual marketplaces. InfiPlex works with you to set all the required PIM rules, making sure your products post the way they need to with the correct pricing and shipping values.
Affordable & Reliable
Once set-up is complete, your products will automatically publish to your chosen marketplaces. There are one-time set-up costs for each marketplace and groups of product categories, but once they are in place you can upload and manage as many SKUs as you want. That means a couple thousand, twenty thousand, a hundred thousand, or millions of SKUs. Monthly pricing starts at only $599.99 for SKU sets of 10,000 +.
PIM Pro-Enterprise Package
$999.99
Per Month
Dedicated Resources for SKU sets over 10,000 and automated product management
Includes order management and 10,000 orders
Unlimited order management connections to any available integration like Amazon, Walmart, Ebay, Wayfair, Shopify, Magento and more.
Unlimited Users
Manage orders, shipping, and inventory across all marketplaces
Automated product data management set-up fees per marketplace
$0.05 per order over 10,000
Automated Product Data Pricing
Our set-up time is spent working with you to automate the process. The goal is to eliminate any and all redundant product data management by you and your employees. This will save you significant time and money verses manual product data preparation and upload to individual marketplaces.
Our base individual marketplace automation starts at $500.00 and is based on the actual time it takes to set-up the connection and the required rules to push your products. Pricing can be more depending on the connection and the number of categories and specific data differences within those categories.
Once your set-up is finished, you can manage an unlimited number of SKUs to the specified marketplace. Product data sets over 100,000 will require additional Enterprise level resources.